Although the scalp is usually covered by hair, it is also worth taking care of it. It is possible that the scalp will repay you with thick and beautiful hair. How to make a scalp scrub? See for yourself, that all the products you need, you will find in your kitchen cupboard and they can be used as a
home scalp scrub
.
Scalp peeling – what is it?
What is a scalp scrub? It works the same way, as the popular facial peeling or foot peeling. The main purpose of peeling is to remove keratinized epidermis, which is naturally exfoliated, both on this part of the body and others. You may be thinking – why is it worth scrubbing the scalp, if the hair makes it practically invisible? The answer is easy: so that our hairstyle stays intact for longer, and the hair is thick and more nourished. Regular washing of the head helps to remove only a little part of the dead skin. The rest of it forms a layer that effectively blocks the sebaceous glands in the scalp.
This, in turn, increases the secretion of sebum, especially if it is favoured by high temperatures or not very airy hats. The secreted tallow mixes with dust, dirt, air pollutants or hair care products, such as hairspray or dry shampoo. As a result, our hair becomes dull and greasy quicker, requiring a second cleanse. A scalp scrub not only helps to remove dead epidermis more thoroughly, but also facilitates penetration, making cleansed skin better at absorbing nutrients contained in hair shampoos or conditioners.
Scalp peeling has one more advantage: the head massage, which is performed during the peeling. It significantly improves blood circulation in the scalp. Oxygenating and nourishing the hair bulbs in it has a positive effect on hair growth and its condition. For these reasons, the scalp scrub is especially recommended for people who tend to have excessive hair loss, oily hair and all those whose hair is simply dry or dull.
Scalp peeling – what you need to know?
In order for the scalp scrub to be effective and harmless to your hair, keep these following golden tips in mind:
scalp scrub should be selected by taking the type of hair in account and the problems with hair or scalp,
it is best to perform the peel right after washing your hair,
peeling should be performed in the form of a gentle skin massage, avoiding – if possible – applying the substance to the hair,
scalp scrub should be applied to several places on the head, to make its distribution easier,
massage the peeling into the skin for a few minutes, and then rinse thoroughly with lukewarm water,
after peeling the scalp, it is worth applying a mask or conditioner to the hair,
the scalp peeling should be carried out not more than once a week, as more frequent treatments may weaken the epidermis and make it susceptible to allergies.
Homemade scalp scrub – how to make it?
You can use ready to use scalp scrubs that are available in stores. It is recommended to choose oil or olive-based scrubs, than scalp scrubs containing alcohol, which can have a drying effect on the skin. However, if you prefer a homemade scalp scrub, you can easily prepare it using products you already have at home. Depending on the effects you want to achieve with the scalp scrub, you can do a:
cleansing scalp scrub – a teaspoon of sugar or coffee mixed with a shampoo is enough. Choose a shampoo that contains scalp nutrients, such as vitamin B5 (pantothenic acid) or keratin, which will penetrate the skin more easily during exfoliating head massage.
moisturizing scrub for the scalp – a mixture of aloe gel (2 tablespoons) and sugar (4 tablespoons) will make the scalp nourished and moisturized. This kind of scalp scrub will also leave a pleasant feeling of freshness.
scalp scrub that weakens the activity of sebaceous glands – if your hair tends to get greasy quickly, use a scalp scrub composed of sugar (4 teaspoons), linseed (2 teaspoons) and apple cider vinegar (half a teaspoon).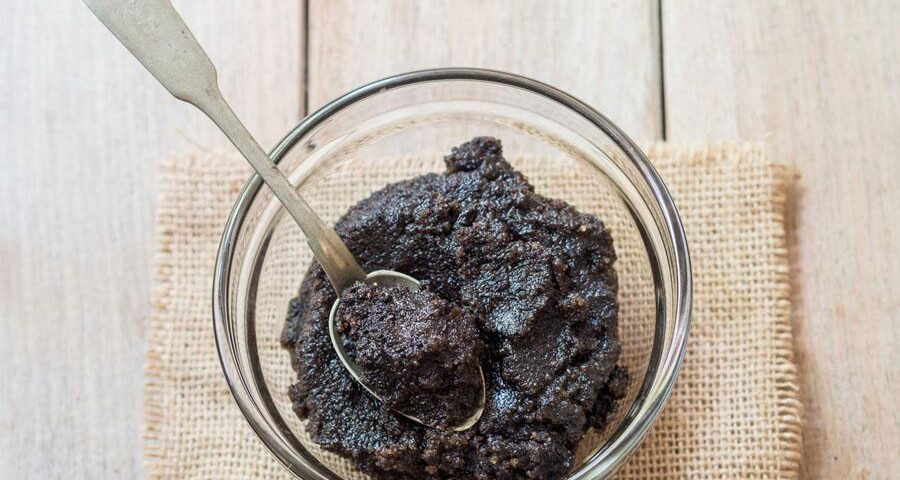 The scalp scrub is a key element for good hair care. If your hair is dull, overloaded or you are struggling with the problem of hair loss, it is definitely worth trying a home scrub for the scalp or a ready to use peeling preparations.