Pubic hair starts to grow during puberty and plays a different role than hair on the head. Scientists say that pubic hair has a protective function, particularly in women i.e. helps protect female sex organs from impurities and bacteria. It also helps maintain the proper temperature of these organs which are particularly sensitive to low temperatures.
Causes of pubic hair loss
The common cause of pubic hair loss is the same as hair loss on the head. Many people can be surprised to see pubic hair loss. Genetic diseases or hormonal changes can lead to sudden pubic hair loss. Menopause is the time of many changes in a woman's body and pubic hair loss is one of the symptoms. In addition, adrenal insufficiency is frequently responsible for hair loss on the body and pubic area. Another frequent cause of pubic hair loss are different types of cancer e.g. leukemia or hepatocirrhosis. Anticancer treatment and medications can also weaken the follicles.
Recommendation to hair transplant surgery
Hair transplant surgery can be performed in patients who experience discomfort connected with excessive pubic hair loss. A pubic hair transplant is performed in patients suffering from hair loss resulting from different diseases. Even people leading an active lifestyle choose this hair transplant method because recovery time is very short. A doctor should first eliminate the causes of hair loss.
Hair transplant
Excessive hair loss has been a well-known problem for centuries that's why doctors are improving hair transplant methods. Alopecia, or hair loss, is often an embarrassing problem for both women and men . Therefore, patients look for a solution to solve this problem in a little invasive way as possible. Aesthetic medicine offers a variety of treatment methods allowing to restore hair. During hair transplant surgery a doctor extracts follicles from an area on a patient's body and transplants them into the recipient area. It is a very safe procedure because material is extracted from the patient's skin. The first hair transplant surgery was performed in the 17th century and it has been improved with time.
FUE hair transplant: procedure description
FUE, Follicular Unit Extraction, is a state-of-the-art hair transplant method which can be performed on different parts of the body. A doctor extracts follicles from an area on a patient's body and transplants them into the recipient area. The extracted follicles are counted, assessed and prepared for the transplant. The procedure requires a doctor's exceptional precision and skills to bring good results. An experienced doctor will guarantee  professional hair transplant surgery.
Hair transplant surgery
On your first visit a doctor will present a detailed plan of the surgery. The procedure takes 1 day and there is no need to prepare for it in advance. A doctor puts local anesthesia on the pubic area and extracts follicles, with a 1mm surrounding skin area, from  the previously marked recipient area. The extracted follicles are then assessed and transplanted into the recipient area. During the surgery the patient can talk with the doctor and personnel. The patient will feel comfortable in a reputable clinic which will reduce the stress connected with the surgery.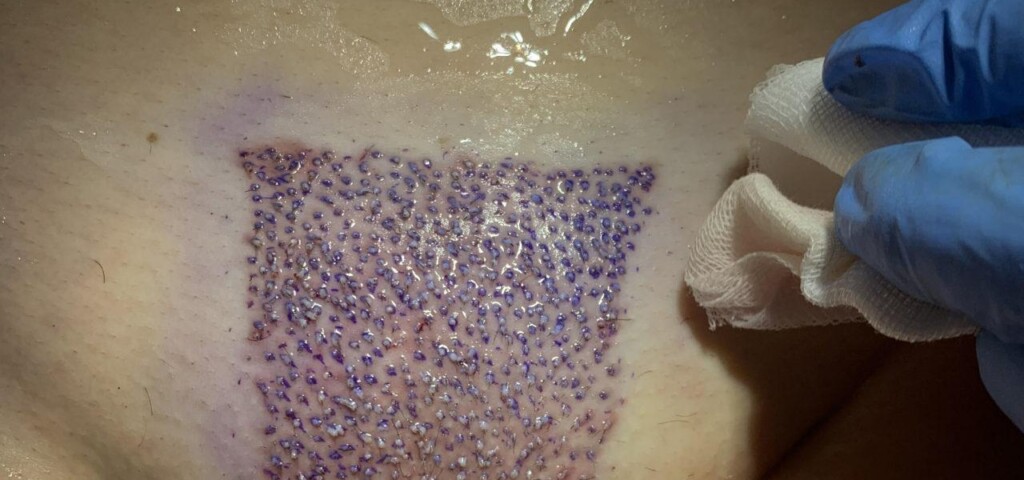 How to prepare for the surgery?
Before the hair transplant surgery the patient should do tests arranged by a doctor. On the first visit you should inform a doctor about your health condition. It is recommended to avoid blood-thinning medications a few weeks before the surgery. On the day of the surgery you should have a light breakfast and  not drink any coffee. A doctor can also give other recommendations depending on the patient's condition.
Doctor's instructions after hair transplant surgery
It is necessary to take special care of the transplanted area for the first 2 weeks after surgery. Skin on the recipient area should be washed with warm water and a formulation recommended by a doctor. Remember to wash it with gentle movements to avoid new hairs from being damaged. Gently dry your skin with a paper towel. After 2 weeks you can gently massage the skin while washing. It is crucial to avoid intensive physical activity, such as swimming or taking a sauna. After the surgery a doctor will put a bandage which can be removed the next day.
Hair transplant results
It is possible to transplant even 1000 follicles during a surgery. On your first visit a doctor determines the amount of follicle to be extracted. Hair transplant surgery time depends on the amount of follicle. Results can be assessed a few months after the surgery. The procedure performed by an experienced doctor brings spectacular results which mainly depend on a surgeon's skills. It is also important to take proper care of donor and recipient areas as well as follow the doctor's instructions and pay a follow-up visit in case of any doubts.