What to choose: ARTAS robotic hair transplant surgery or manual follicles transplant surgery (FUE) by a highly specialized surgeon? People suffering from alopecia and interested in hair transplant surgery frequently find information about the ARTAS robotic hair restoration procedure.
Is the robotic hair transplant system really beneficial for the patient?
Should the patient be satisfied that hair transplant surgery can be done by an automated, logarithmic and passive robot?
Is hair transplant surgery associated with the ultimate aesthetics procedure of our body? Or is it considered a "production line" transplanting hair into non-personalized subjects.
Modern robotic hair transplant systems (including ATRAS) provide patients with many limitations. ARTAS technology is only licensed to extract follicles in dark-haired patients with straight hair. The disadvantage is the fact that men with fair, red or grey hair must first dye their hair to allow the robotic system to work properly.
However, it is well-known that even dark-haired people have different shades of hair color and weaker hair structure. That is why it is easy to make mistakes and damage healthy grafts during the robotic hair transplant procedure.
What is more, the ARTAS robotic hair transplant is problematic in patients with curly hair so they are recommended to undergo manual FUE hair transplant surgery. There are many false reports saying that the ARTAS robot works on its own without the doctor's and medical personnel's assistance. However, ARTAS is only the surgeon-assisted technology. The robot only extracts the follicles and creates sites for the grafts. The remaining procedures are done as in the case of other hair transplant techniques including FUE.
ARTAS or FUE hair transplant?
Dr. Piotr Turkowski emphasizes that key elements of the highest quality hair transplants are the following:
to determine the natural hairline
accurate and professional grafts selection for different recipient areas
and precisely prepared sites for follicles at appropriate angles and positioning in the recipient area.
All the above procedures are so challenging that they should not be performed by robots. They may result in mistakes in terms of medical and aesthetic effects.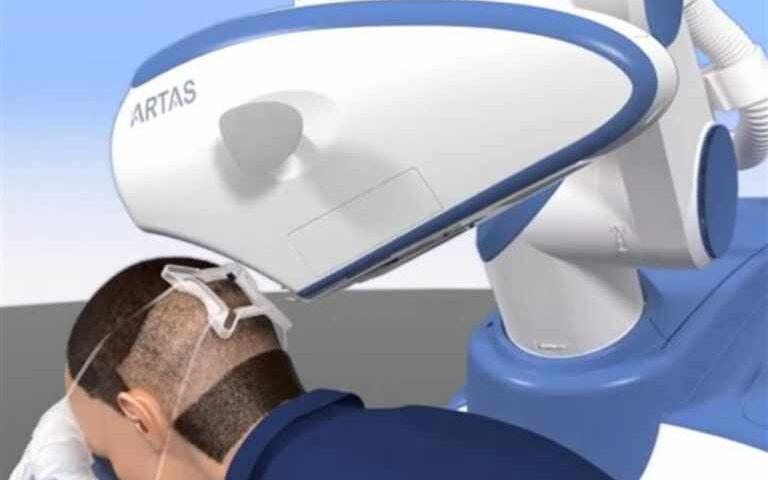 Marketing slogans saying that a robot is better than an experienced surgeon are inaccurate and misleading to patients. They should not be available to the public. A robot does not work on its own. People interested in technological innovations can find it tempting. However, when you consider choosing a hair transplant method and a surgeon, you should not experiment with your body and take only the surgery cost into account. A doctor's professional skills and experience are of the utmost importance. Marketing superficial messages about robotic hair transplants are supposed to encourage people to use this method and hide its disadvantages. The same refers to ARTAS technology. Dr. Piotr Turkowski emphasizes that he does not follow new trends. His priority is knowledge, manual accuracy of hair transplants and natural final effect.
Automatization or skills?
A skilled and experienced surgeon cannot be compared to an ARTAS robot which quickly extracts grafts. Experienced surgeons work quicker than robots but it is not so important. What is more, contrary to robotic hair transplant procedures a skilled surgeon is much more accurate and guarantees the highest standards of medical knowledge in the course of hair transplant surgery.
Dr. Piotr Turkowski points out that the world-famous hair restoration surgery specialists only focus on using improved FUE hair transplant devices and not robots.
Robot or human?
A human factor in the FUE hair transplant method is irreplaceable. A robotic hair transplant system does not provide natural looking results as compared to a manual FUE hair transplant technique. Hair transplant surgery results can be compared to permanent make-up or other aesthetic medical surgeries. The most important factors are skills and good taste which cannot be substituted by robots. Everyone expects to be treated individually in terms of precious health and body condition. It is important to take such factors into account when you decide to undergo aesthetic medical surgery. We should not follow defined patterns and instructions as e.g. in the case of life saving procedures.
Hair transplant clinic
When you look for a hair transplant clinic you should not only focus on the famous name or the advertisements. You should also pay attention to a doctor and his/her experience. The fact that a clinic uses the robotic hair transplant system does not guarantee a higher quality surgical result. The robot can only assist in the hair transplant procedure. Still the key factors of efficient hair transplant surgery are knowledge, experience and the professional skills of a surgeon and his team. In the majority of the most reputable clinics in the world doctors only use manual methods with micro drills. Patients considering hair transplant surgery should take the above facts into account.
ARTAS vs FUE – comparison
Below you can find photos from ISHRS (the international society of hair restoration surgery). The difference between the ARTAS (on the left) and manual hair transplant wound size (on the right). The effects of both methods used are unquestionable.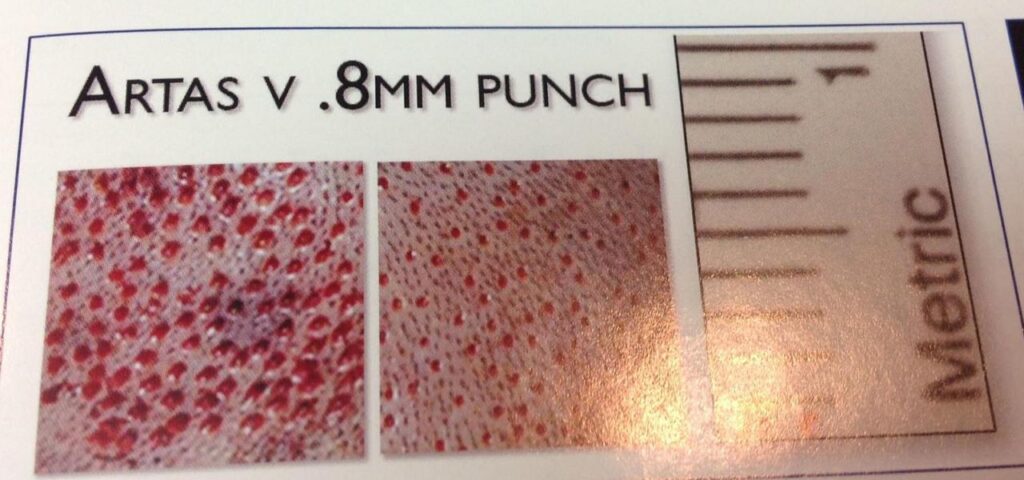 Hair transplant 'art'
The manual FUE hair transplant technique can be compared to a unique painting technique. In particular a technique using a unique texture or a single brush stroke. They are not symmetrical, represent a piece of creative imagination and are considered a distinguished work of art.
    'Art is meant to disturb. Science reassures.' – Georges Bregue
Similarly, hair transplant surgery procedures require sophisticated skills and good taste. Symmetrical and 'artificial' grafts positioning on the scalp performed by a robotic hair transplant system will not look natural. Therefore, a robotic hair restoration procedure can be compared to a schematic piece of art. They are similar but different. The choice is yours.